Product Description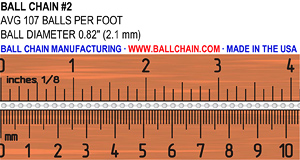 Slightly larger than the #1 chain, the #2 size is used for fine jewelry such as neck chains and bracelets, and can also be used for (advertising items), key chains, neck chains, etc.
Chain Size: Ball Chain #2
Ball Diameter: 01.82" (2.1 mm)
Material/Finish: Aluminum
Style: Round
- The #2 aluminum ball chain spool is lightweight.
- Commonly used in jewelry making and crafting.
- This option is rust resistant.
- The balls are a slightly larger diameter than the #1 chain.
- Manufactured at our Mount Vernon, NY factory.
This genuine Ball Chain product is
MADE IN THE USA
Product Videos
Custom Field
Product Reviews