Product Description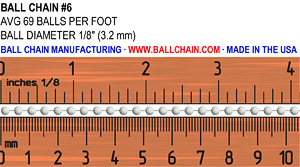 This is one of our antique finish #6 ball chain spools. This chain has a decorative antique brown finish that is commonly used in conjunction with light fixtures and ceiling fans, but has also been used in crafting and other DIY applications.
Chain Size: Ball Chain #6
Ball Diameter: 1/8" (3.2 mm)
Material/Finish: Antique brown and lacquered finish over steel
Style: Round
- This ball chain has a brown finish using an antiquing process.
- Commonly used for decorative applications in ceiling fan chains and light pull chains.
- Can be used as a retaining chain for pens, dust caps, NAS parts and assemblies.
- Manufactured and plated at our Mount Vernon, NY factory.
This genuine Ball Chain product is
MADE IN THE USA
Product Videos
Custom Field
Product Reviews