Product Description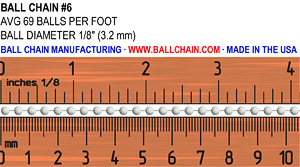 Manufactured with the ball-bar style this #6 copper ball chain spool is a great way to purchase this chain in bulk at low wholesale factory direct prices. These chains can be used as pull chains for lights and ceiling fans, as retaining chain for items such as pens, filler and dust caps, tags, NAS parts, and assemblies. It is also used for a larger and stronger key chain, neck chain, identification chain, chain for law enforcement badges, etc.
Chain Size: Ball Chain #6
Ball Diameter: 1/8" (3.2 mm)
Material/Finish: Copper
Style: Ball-Bar
- The ball-bar style chain makes this popular for crafting, jewelry making and unique light and ceiling fan pull chains.
- Commonly used as pull chains for lights and ceiling fans.
- Make endless loops, necklaces and bracelets using the #6 combination/ball chain joining pliers.
- Also used as a retaining chain for pens, dust caps, NAS parts and assemblies.
- Copper is believed by some cultures to have medical and healing properties.
- Manufactured at our Mount Vernon, NY factory.
This genuine Ball Chain product is
MADE IN THE USA
Product Videos
Custom Field
Product Reviews