Product Description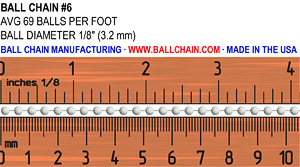 This #6 yellow brass ball chain spool is the most cost-effective way to purchase this chain. Sold at low wholesale, factory direct prices this chain is commonly used as pull chains for lights and ceiling fans, as retaining chain for items such as pens, filler and dust caps, tags, NAS parts, and assemblies. The yellow brass material provides corrosion resistance. It is also used for a larger and stronger key chain, neck chain, identification chain, chain for law enforcement badges, etc.
Chain Size: Ball Chain #6
Ball Diameter: 1/8" (3.2 mm)
Material/Finish: Yellow Brass
Style: Round
- Yellow brass has a gold reflective color.
- Corrosion and rust resistant making it suitable for outdoor and marine applications.
- Commonly used as a retaining chain.
- Also has been used as a higher tensile strength neck chain and key chains.
- Please see size chart for tensile strength.
- Manufactured at our factory in Mount Vernon, NY since 1938.
This genuine Ball Chain Mfg product is
MADE IN THE USA
Product Videos
Custom Field
Product Reviews
This ball chain is great. I'm using it in mosaics. The brass color is perfect.

Great product and service.

Great product and service.

#6 yellow brass ball chain spool

Product more than meets my expectations. Excellent company to deal with.

So, this is a good product. It does what it is suppose to do - keep things together - without fuss. My issue is with your packaging. It took me 30 minutes to get my one spool out. Y'all - it's not nuclear waste; it's ball chain! Maybe we could re-think the necessity of medal brads and extra thick cardboard?