Product Description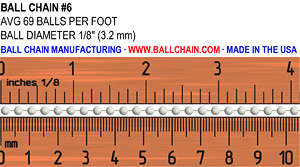 The #6 gun metal ball chain spool is another example of our variety of chain finishes. This chain is used as pull chains for lights and ceiling fans, as retaining chain for items such as pens, filler and dust caps, tags, NAS parts, and assemblies. It is also used for a larger and stronger key chain, neck chain, identification chain, chain for law enforcement badges, etc.
Chain Size: Ball Chain #6
Ball Diameter: 1/8" (3.2 mm)
Material/Finish: Gun Metal
Style: Round
Cool gun metal finish.
Commonly used as pull chains for lights and ceiling fans looking for a more artistic finish.
Also used as a retaining chain for pens, dust caps, NAS parts and assemblies.
Stocked in multiple spool sizes.
Purchase the #6 combination/ball chain joining pliers to make endless loops.
Manufactured at our Mount Vernon, NY factory.
This genuine Ball Chain product is
MADE IN THE USA
Product Videos
Custom Field
Product Reviews
I purchased this chain to hang fused glass art - super nice product and excellent quality.