Product Description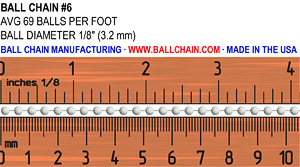 The #6 nickel plated steel ball chain spool is one of our most popular ball chain spools. This chain is used as pull chains for lights and ceiling fans, as retaining chain for items such as pens, filler and dust caps, tags, NAS parts and assemblies. It is also used for a larger and stronger key chains, neck chains, identification chain, chain for law enforcement badges, etc.
Chain Size: Ball Chain #6
Ball Diameter: 1/8" (3.2 mm)
Material/Finish: Nickel Plated Steel
Style: Round
- This ball chain spool is has reflective chrome like surface.
- Commonly used as pull chains for lights and ceiling fans.
- Also used as a retaining chain for pens, dust caps, NAS parts and assemblies.
- Great value with spool sizes of 100 feet, 200 feet, 500 feet, 1000 feet and 2000 feet.
- Used the #6 combination pliers/joining tool to make endless loops and assemblies.
- Manufactured at our Mount Vernon, NY factory.
This genuine Ball Chain product is
MADE IN THE USA
Product Videos
Custom Field
Product Reviews
I have no idea what this field means.

Good product at a good price.

easy to work with, and be used almost anywhere

Great made in USA chain. Made in USA is why I buy from here. T's Outdoor Supply loves the stuff.

I've collected padlocks for 40 yrs , so I need a ton of keychains , and this is far and away the best value for my buck....friendly , helpful staff too !!

Nickel Plated Steel Ball Chain

I am very pleased with the quality, service, and speed of deliver.

#6 Nickel Plated Ball Chain

As described

Exactly what I was looking for.

Always fast shipping and reliable service. Product quality is top notch.

Have been ordering from BCM for several years now. Always consistent, prompt and courteous. Like knowing that the product is MADE IN THE USA.